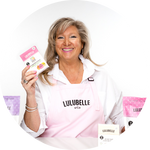 Meet Marie, Our Founder
Hello, I am Marie, Founder of Lulubelle & Co.

I created Lulubelle & Co after tasting for the first time a gluten-free cake.
The experience was so disappointing that I decided to create gluten-free mixes that would please everyone.

After several months developing my recipes, I succeeded in creating the perfect blend of plant-based and gluten-free flours that makes delicious products that everyone, with or without gluten allergies, will love.

Thanks to Lulubelle & Co you can finally enjoy healthy gluten-free baking goods that are frankly delicious!

I can't wait for you to try Lulubelle & Co and join us on the mission to live,
"gluten-free & compromise-free!"
So good, you won't believe it's gluten-free⁣
At Lulubelle & Co, we carefully select our ingredients. Our products are plant-based and chemical-free in order to protect and nurture our ecosystem so that future generations can thrive in a healthy and fruitful planet.

In short, we are contributing to the well-being of the planet, one bite at a time.

Lulubelle & Co is certified Bcorp and Women Owned. Our mission is to create delicious gluten-free baking products to delight the whole family!

Downright delicious, Lulubelle products are vegan, gluten-free, nut/hazelnut-free, soy-free, palm oil-free and free of artificial colors and flavours. Proudly local, our products are entirely developed and manufactured in Canada, including our packaging.

In 2021, Lulubelle had the honor of participating in the show "Dans l'œil du Dragon".
Lulubelle & Co, a women-owned business
Lulubelle is a proudly women-owned business. We ensure that our organization and our partners promote women's decision-making and entrepreneurship. That's how we make the world a better, gender-equal place, day in and day out.

We are B Corp-certified
Lulubelle & Co has received the B Corp certification in 2020. This certification rewards our high standards in terms of performance, transparency, as well as social, and environmental responsibility. B Corp is a community of 4800+ organizations that seek to redefine business success.Together, we are building a better future.
Learn more
Partner of the Breakfast Club
Lulubelle & Co collaborates with the Breakfast Club of Canada to offer pancake mixes to school nutrition programs. The Club helps provide nutritious breakfasts to children to help them reach their full potential. Every day, the Club reaches more than 580,000 children in more than 3,500 programs in Canada. This partnership is part of our mission to promote the well-being of all, by offering a little happiness to these children with products that are good for the head and the body.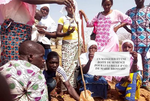 Partnership with "Les vergers d'Afrique"
We believe in giving back to communities and empowering women. We are partnering up with Les Vergers D'Afrique, a Canadian nonprofit organization. We are committed to purchase annually 4 tons of manioc flour produced by female farm workers from Notatinga, a village in Burkina Faso. This is our way of enabling local women and families to achieve self-reliance in terms of food and economic development.

This fair-trade partnership with Burkina Faso women who produce organic manioc is essential to Lulubelle. Sustainability and fair trade are part of our core values and define Lulubelle's social mission.

We have recently completed a very successful Ulule socio-financing campaign.
Learn more